Massage Therapy
Kearns Chiropractic currently has 4 Licensed Massage Therapist's that work Monday-Saturday, by appointment only.
Please contact the office for current rates and scheduling.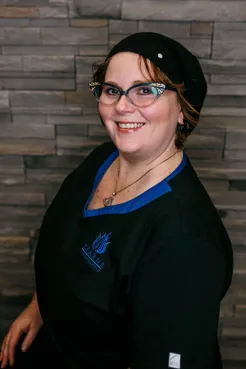 Meet Dusty Kurt:

Dusty Kurt is a Licensed Massage Therapist (LMT) at Kearns Chiropractic. Dusty has been an amazing addition to our Kearns Chiro team--both in colorful personality and in amazing skill and control of her massage therapy craft. Dusty received her training at the Oregon School of Massage, and followed it with formal training at the Heart of Herbs Herbal School. Dusty is extremely talented with muscular injury revitalization and energy repair, and works with her clients on wholistic breathing techniques through her massage.
Dusty's interests include permaculture, painting, pottery, wild crafting, dancing, yoga, and her four-legged best friend Keera! Give us a call and schedule with Dusty and let her help you get back to feeling your best in 2020!
Meet Lily Anderson:

Lily Anderson is a Licensed Massage Therapist at Kearns Chiropractic. Lily is our most recent addition to the team, but she has made a huge impact in a short amount of time by allowing us to expand our hours and create additional Saturday massage opportunities for our patients. Lily went to East West College of Healing Arts, graduating in June of 2019. She particularly loved her anatomy classes with a special interest in the causes and effects of pain and injury on the body. Lily loves building relationships with her clients and getting to know them. In her spare time she loves baking, painting, spending time with friends and family, and play with her three dogs.
Meet Zach Woods:
In process.....
Meet Fern Edwards:
In process.....